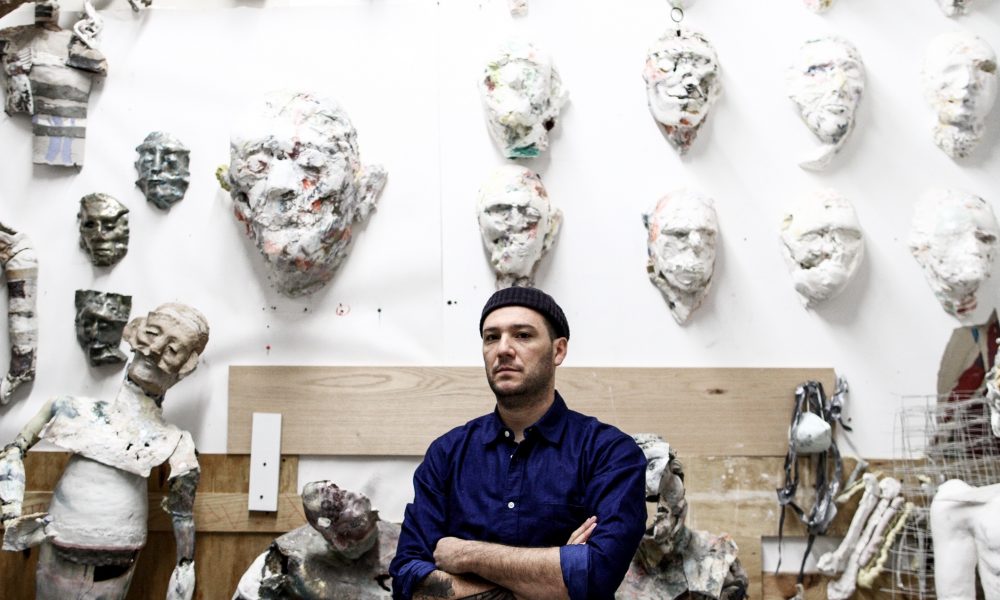 Today we'd like to introduce you to Derek Weisberg.
Every artist has a unique story. Can you briefly walk us through yours?
I began sculpting at a very early age starting with the medium of mashed potatoes as soon as I could hold a fork and knife, moving onto action figure assemblage when I could load a hot glue gun, and at age seven, I turned to the medium of ceramics, which was the beginning of my lifelong love and ultimate passion.
I unwaveringly pursued ceramics sculpture throughout my childhood and teens, in Benicia, CA, where I was raised. At age 18, I moved to Oakland, CA, to pursue my love for ceramics and art in general and attended California College of Arts and Crafts. At CCAC, I received several awards and graduated with high honors in 2005 with a BFA. Since then I have co-owned my own gallery, Boontling Gallery, as well as curated numerous other shows. I have also worked with highly esteemed artists such as Stephen De Staebler, Ursula von Rydingsvard, Manuel Neri, and many others. In addition, I have maintained a strong and demanding studio practice, exhibiting nationally, and internationally. I currently live and work in NY and am faculty at Greenwich House Pottery.
Please tell us about your art.
How fleeting life is?. We are all here with limited time and capacity. We all exist with the knowledge that one day our last breathe will expire. How do we operate and move through life knowing this? With this awareness, how do we strive toward achievements and growth on all levels of our being? Additionally, how do we pursue this as we and our world changes, every moment of every day? How do we move through the mud, as Beckett says, and funk of life, as Dr. Cornell West calls it? And, how do we do this as elegantly, beautifully, kind, invested, and responsible as possible? Life can be lonely, hard, complicated, and ugly. How do we wrestle with pain, longing, dysfunction, and vulnerability? How do we find truths in the face of these hardships and realities? How do we cope with human atrocities and extreme injustice, from local and personal relationships to the grandest of scale? Art provides a unique opportunity and experience to communicate powers beyond ourselves; it can traverse time, place, gender, race. It has the ability to touch the core and reach the deepest places of our existence. Through my art, I attempt to tackle these questions and to kiss these truths.
We often hear from artists that being an artist can be lonely. Any advice for those looking to connect with other artists?
If you have chosen to dedicate your life to making art or being involved in art; be patient, determined, continually curious, resilient, and unflinching in your pursuit.
It is a long slow, arduous road that comes with many ups and downs and unfolds over a lifetime. Settle in and enjoy the ride. Find the greatest fulfillment in the making of the work and in meaningful and deep reactions from your audience. Art making is a magical gift both for the maker and the viewer, soak it up.
How or where can people see your work? How can people support your work?
People in or visiting NY can see my work included in a 2 person exhibition with Alice Mackler at Kerry Schuss Gallery. Opening November 17th and running through December 22nd.  The gallery is located at 73 Leonard st NY NY and is open Tuesday thru Saturday. For more details visit www.kerryschuss.com
You can also see my work through my website or you can follow me on Instagram @derekweisberg.
Contact Info:
Website: www.derekweisberg.com
Email: Derekweisberg@gmail.com
Instagram: @derekweisberg
Facebook: Derek Weisberg